A Final Reckoning: A Tale of Bush Life in Australia - Audio Book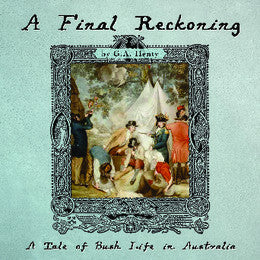 A Final Reckoning:
A Tale of Bush Life in Australia
By: G. A. Henty
Read by: Jim Hodges

Date: 1830's
Location: England, Australia
Australia in the 1830's was a wild place. Reuben Whitney, escaping an inaccurate perception of him in England, enjoys an adventurous passage onboard the Paramatta, and sails 'down under.' Joining the police force, he makes his mark in conflicts with the Aborigines and Bushrangers. Finally he saves the life of a squire's daughter who has emigrated to Australia following her fathers financial ruin. This story is filled with adventure, close calls, and historical information about the early days of Australia!
MP3 CD
This is a computer CD. The audio files will play on any computer CD drive, DVD player or MP3 compatible CD player. MP3 CD players are available at most large electronics or discount stores, including Best Buy, Circuit City, Wal-Mart or Target. The audio files on this CD will not play on a standard CD player.