With Wolfe in Canada: A Tale of the French & Indian War - Audio Book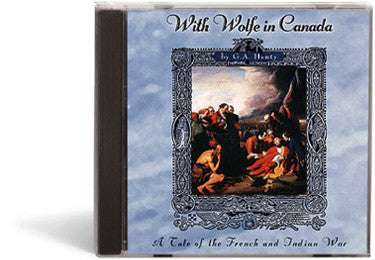 With Wolfe in Canada:
A Tale of the French & Indian War
Total listening time: 11 hrs, 23 minutes
Setting:  AD 1750's and 60's – North America – French and Indian War. 
Story: Shortly before the United States Revolutionary war against England, most inhabitants were her loyal subjects.  France had control of much of southern Canada and the "western" lands of the current states of Pennsylvania and Ohio.  Skirmishes abounded for years between English settlers pushing west and French settlers and her Indian accomplices.  The Seven Years War in Europe spilled over to the colonies, where General Wolfe finally defeated the French in Quebec.  Includes depictions of the battles of Forts Duquesne and Necessity in Pennsylvania, and Forts Ticonderoga and William Henry in New York, and Quebec in Canada.
CHAPTER

TIME (min:)

1:

A Rescue

31:00

2:

The Showman's Grandchild

33:53

3:

The Justice-Room

31:21

4:

The Squire's Granddaughter

32:19

5:

A Quiet Time

35:25

6:

A Storm

31:41

7:

Pressed

30:47

8:

Discharged

30:58

9:

The Defeat of Braddock

33:06

10:

The Fight at Lake George

33:06

11:

Scouting

29:55

12:

A Commission

35:00

13:

An Abortive Attack

28:54

14:

Scouting on Lake Champlain

31:13

15:

Through Many Perils

29:23

16:

The Massacre at Fort William Henry 

31:34

17:

Louisbourg and Ticonderoga

26:53

18:

Quebec

46:53

19:

A Dangerous Expedition

31:32

20:

The Path Down the Heights

32:20

21:
The Capture of Quebec  

36:26

Total Time: 11 hrs, 23 minutes
"We have listened to your tapes and are very pleased. Your speaking voice is great! I've heard so many different voices and most are so boring! The expression and changes in your voice are great and make for easy listening!"
Caren (Home School Treasures)
MP3 CD
This is a computer CD. The audio files will play on any computer CD drive, DVD player or MP3 compatible CD player. MP3 CD players are available at most large electronics or discount stores, including Best Buy, Circuit City, Wal-Mart or Target. The audio files on this CD will not play on a standard CD player.